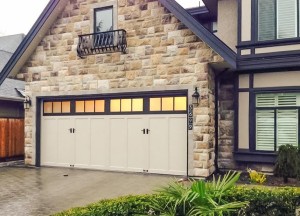 It is very important that your garage door be in good condition – it is one of the entryways to your home and if it is old or broken it can be an entryway for intruders. Many people will buy the first modern garage door that they come across – this is not the right thing to do. There are many different types of garage doors so it is important to compare them so that you can find the best one for your needs. A garage door greatly affects your home's curb appeal and can in fact increase the value of your home.
What kinds of garage doors are available?
Modern garage doors are made out of many different materials including steel, wood and wood composites, fiberglass, vinyl, and aluminum. Each of these has pros and cons but the most widely preferred are those made of wood or steel. Wood is liked because it is easily available and can be easily customized to match most homes. That said, a garage door made of wood will not last as long as one made of steel and it also needs a lot of upkeep. Steel is obviously liked because it is strong and requires little maintenance. You can purchase a garage door from places like Home Depot, or you can purchase them from a vendor who will also be able to advise you on which door is right for your home as well as install it for you.
Are there any other things that you should be looking for?
There are indeed. Advances in technology now allow modern garage doors to come with many additional features. You can buy a custom garage door if you want one. You can get some that have excellent insulation features which will help with energy savings in the long term, you can get some that are made out of other materials but have been made to look like wood and so on. The additional features you choose will depend on how much you want to pay – the more features the higher the cost of the door.
Speaking of cost, you may be wondering what the cost is a garage door is. It varies a great deal – the cheapest one you will find will cost you about $400 but it can go as high as $9,000. The average cost is about $1,500 which includes installation.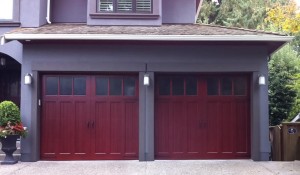 It's important to note that cheap garage doors are very fragile, have weak structuring and can easily be destroyed. It does not take a lot of force to bend a cheap garage door panel. On the other hand, a high quality garage door will have a strong structure and insulation, which adds to the strength of the door. The same force on that would break a cheap garage door panel would maybe only dent a high quality door. The cheap door would need to be replaced where as the high quality door may only need one panel replaced.
Can you save some money by installing your garage door yourself?
If you look online you will see multiple websites that offer tips on DIY garage door installation. Unless you are a handy person you should not try to install your garage door yourself. First, it is pretty heavy and if it falls on you it can hurt you seriously. Second, you risk damaging it, which will force you to spend more money on a new one. If installed incorrectly, the door may not function optimally, which may shorten the lifespan of the door and be a hazard.  The best thing to do is to buy from a vendor who also installs and let them do it for you. J.Mac Doors Ltd., for example, serves Vancouver BC and the surrounding cities, sells all types of high quality residential garage doors and will install them for you. They can be reached at (778) 665-0466.

Also, make sure that your garage door is regularly maintained – this way it will last longer.
In some cases, you may require some home renovation services from a company like Top To Bottom Construction before installing your new garage door, especially if you plan on converting a car port into a garage. A high quality garage door is a significant investment and it is best to do any renovations and remodeling before the new door is put in to avoid unnecessary damage.